Showing you the ropes: Bedroom Bondage Safety (VIDEO and Text) – a KinkCrate piece.
Check out this video for more information: https://www.youtube.com/watch?v=pbtAqdClnBo make sure you subscribe the KinkCrate YouTube Channel while you're there for future videos!
This month's KinkCrate contains tools for some real fun. Rope bondage is an artform with a rich history and some folks dedicate many, many years of their life to becoming masters at this craft. Shibari (Japanese rope bondage) and other advanced forms of suspension and rope play – that may or may not include sex – are different than bedroom bondage. Bedroom rope bondage is more about having an enjoyable time and using rope as part of your sexy play time. Rope can feel sexy and soft against your skin, or rough and scratchy – both of which can be fun sensations. Rope can be made into fetish garments, used to bind and restrain, and used functionally to secure sex furniture or other sex toys to the person on the receiving end. Rope can be tied into handcuffs and harnesses, or used to help hold legs open or arms in place. There are almost endless ways to use rope, but remember to go slow. Unlike some of the other toys you might use for sexy fun, the potential to injure yourself or your partner is greater when you're using rope. Because of this, you'll want to proceed with caution and do plenty of research as you move through your journey with this new skill.
Let's start with a few basic terms.
Negotiation – this is the part where you and your partner decide what playtime will look like: whether you will play naked or clothed, whether there will be any kind of sexual contact or orgasm allowed, and what you're both comfortable with based on your experience and skill levels. Use this time to establish a safeword (a word that can be used to stop play completely if someone's boundaries have been crossed or an injury takes place). Also use this time to determine what language you're comfortable using throughout your scene (do you identify as a Dom and like to be called Sir?).
Kink tip for Tops: Have your bottom/submissive do some reading and research and then describe their perfect rope scene for you. Ask them to include information about knots, safety, and other things you'll need to know to make this scene fun and safe for everyone. Review this together as part of the negotiation process and take time to make sure you both understand the risks (and rewards) of your impending scene.
Suspension – rope play where the body of the person being tied up comes completely off the ground. Suspension play is NOT for beginners. You can really hurt yourself or your partner. I strongly advise sticking with floor work for your sexy bedroom time. If you decide to learn more about suspension play, you'll want to learn about supports, rope ratings, carabiners and other elements of more advanced rope play. This is more than we are covering here.
Floor work – rope play where the body of the person being tied up is touching the floor (or bed) in at least some places (feet on the ground, for example).
Burn speed – how fast the rope can run along your skin before giving you rope burn.
Rigger – (or Dom, or Top) – this is the person doing the tying.
Bunny – (or bottom, or submissive, or model) – this is the person being tied.
Scene – another word for the playtime you negotiated on.
Subspace and Topspace – a mental state wherein one is totally (hyper) focused on the details and sensations of the scene. For bottoms/subs, this is often described as a type of blissful euphoria. For Tops/Doms it is often described like "flow" state.
Fun Fact: There is neuroscientific evidence to support claims that engaging in BDSM play creates an altered psychological state like what I am describing here. For more information (use Google Scholar to) check out: Consensual BDSM facilitates role-specific altered states of
consciousness: A preliminary study (Ambler et al., 2017).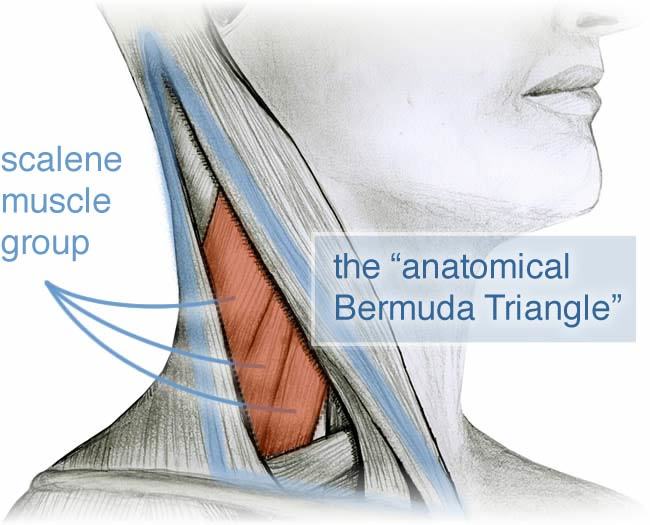 Scalene muscles – the muscles that connect your neck to your shoulders (also, scalene triangle). If these muscles are very tense it can limit range of motion and lead to muscle pain and injury.
For more: https://en.wikipedia.org/wiki/Scalene_muscles
Image: https://www.painscience.com/imgs/spot-04-scalenes-main-xl.jpg
Radial Nerve – runs through your upper limbs (arms) and is susceptible to injury from improper rope play. Radial nerve injuries can cause sensation and motor loss.
For more: https://en.wikipedia.org/wiki/Radial_nerve
Aftercare – after the conclusion of a scene, as the players come out of subspace and/or Topspace, they can benefit from special attention and care. This is going to be specific to each person but could include things like water or Gatorade, a light snack, blankets, gentle massage, or snuggles.
For more: "What is Aftercare" http://www.kittenrope.com/blog/2015/8/31/what-is-aftercare
For more about these terms and other info check out "A Rope Bondage Primer" http://www.kinkacademy.com/2015/09/a-rope-bondage-primer/
Kink tip for Tops and bottoms: Make a list for each other of items and activities that will be soothing or helpful to you after you come down from a scene Maybe your items list includes things like adult coloring books, a special stuffy, your favorite DVD or CD, bath bombs, Tylenol, or protein bars – you decide! Then go get some of the things on your list and have a date night where you make aftercare kits for each other, or one that you share. Put your lists in the box(es), too, for easy reference. Every so often revisit the boxes and the lists to update and restock.
The rope in your crate:
Cotton:
Cotton rope is very soft and feels really nice against your skin. It also comes in fun colors because it is easy to dye! It does stretch as it's used – which is good to keep in mind as your bunny's weight bears against it or your bunny struggles and pulls at it. It is also very flexible and breaks more easily than other types of rope. Bonus, it has a high burn speed – this means it can run quickly along the skin with little to no rope burn. Great for bedroom bondage.
Hemp:
Traditional rope and a favorite of shibari experts and other skilled ropesters. Hemp is very durable, withstands cleaning well, doesn't stretch as much as cotton, won't break as easily, and has a high burn speed. When treated properly, hemp is incredibly soft and feels great. The more "raw" your hemp is, the more it will feel scratchy against skin. Great for bedroom bondage and suspension.
Leather:
Leather rope is a big part of both rope and leather fetish communities. Is not used for suspension but is used for play like binding (like chest and breast binding), CBT (cock and ball torture), harnesses, handcuffs, and strapping sex toys in place. Lower burn speed. Great for bedroom bondage.
Some safety tips: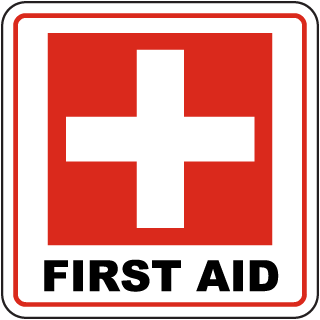 First Aid:
You will absolutely need to get yourself some EMT Safety Shears and keep them handy while you're playing. Sometimes, even if you think you have tied every knot perfectly, your bunny needs to become free without delay. Safety shears are ESSENTIAL.
Find them in your local pharmacy or on Amazon: https://www.amazon.com/Stainless-Surgical-Scissors-Bondage-Safety/dp/B002C600ZA
Bonus: Get CPR certified through the American Red Cross. To find a class near you go to their CPR Training site here: http://www.redcross.org/take-a-class/cpr
You will also want to consider building a playtime First Aid kit that includes things like massage oil, quick snap ice and heat packs, bandages, and Tylenol.
Towels for padding:
Rolling or folding a washcloth or towel to add padding between rope pressure points and skin can be a huge treat during long play scenes.
Hydration:
Heavy, long, or exciting play scenes can be very dehydrating. Keep yourself and your bunny well hydrated by keeping lots of cool water nearby.
Kink tip for Tops: Grab some bendy straws, remember your bunny may not be able to use their hands.
Nerve Damage:
Bondage play can put fingers, hands, arms, legs, feet, and toes into some weird positions that can become challenging to your circulation. Limited circulation can cause nerve damage, and injuries that range from minor to incredibly severe. You'll want to tie knots that are sturdy and won't slip or tighten as your bunny struggles or moves against them, and you'll want to make sure you can comfortably slip two fingers between the rope and your bunny (like putting a collar safely on a kitten). Thicker rope, and rope that is double or triple wound, will help spread out the pressure on the weight against it.
For more: "Signs and Symptoms of Nerve Damage" http://www.remedialropes.com/nerve-damage/signs-and-symptoms-of-nerve-damage/ and "Nerve Damage" http://www.remedialropes.com/nerve-damage/
Kink tip for bottoms: wiggle your fingers and toes often throughout play to check for that tell-tale pins and needles feeling. Make sure to let your Top know if you start to feel tingly.
Kink tip for Tops: Squeeze your bunny's hands and toes and ask them to squeeze your hand periodically. You can also use a wartenburg wheel (available from www.KinkCrate.com/shop) to check sensation and add some fun to the play time.
Asphyxiation:
Sometimes you'll see images or videos where a Top has used rope to create a leash for their submissive. Don't try this at home. This is advanced rope play and could go very bad very fast.
For a more thorough discussion of safety basics, check out Crash Restraint's article on Basic Safety here: https://crash-restraint.com/ties/1
For more on rope play check out the learning videos and blogs over at Kink Academy (find links here; some of it is free and some is behind a pay wall, but this site is worth every single penny for a subscription) or grab a copy of Erotic Rope Bondage by Jay Wiseman or The Seductive Art of Japanese Rope Bondage by Midori. You can also get tapped in to local training workshops and rope events by checking out the calendar of events on sites like Swingtowns.com (find me at Swingtowns.com/like/ProfessorSex if you have questions), Fetlife.com, or LovingBDSM.com.
For more tips on fun and creative ways to use what's in your KinkCrate, subscribe to my YouTube channel for unboxing and how-to videos especially for KinkCrate!

*This content originally appeared in the August 2017 KinkCrate. to subscribe to KinkCrate check out www.kinkcrate.com/professorsex