Make you squirm: an extremely brief history of Japanese tentacle erotica
(This originally appeared in the The Professor Sex Edition of Kink Crate in Jan 2019)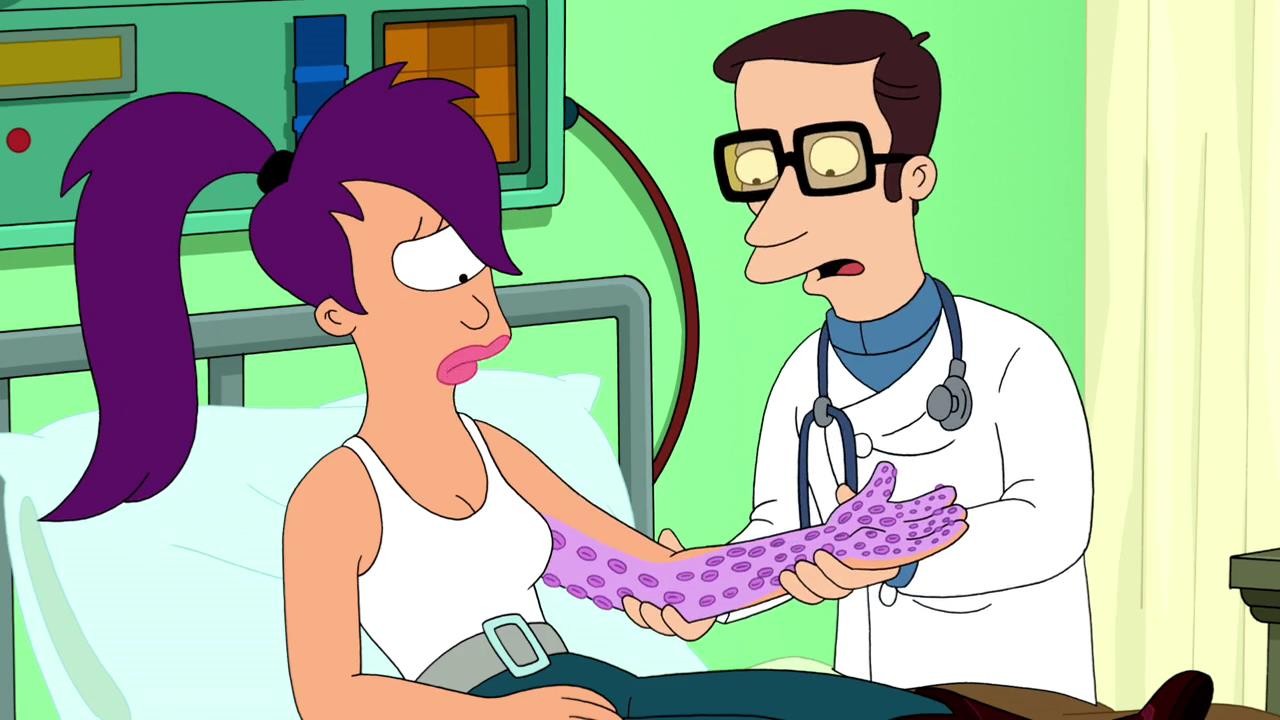 "Those aren't tentacles! They're gentacles!"
— Leela, Futurama: The Beast with a Billion Backs
When the folks at Kink Crate said they wanted to do a Professor Sex box I was excited. Being a giddy child professional adult, when they said they wanted to fill it with tentacle toys, I squealed with glee. If you're anything like my mom, you're very happy for me but you're also wondering if I am getting paid for this why a Professor Sex themed box would be filled with tentacles.
I have been fascinated with tentacle erotica for a long time. I am interested in how cultures have handled the subject of sexuality and sexual fantasy throughout time. Porn has been around as long as cave men have drawn on walls, and historical depictions of the erotic are of particular interest to me. I love seeing the ways that people have explored the salacious, especially in days before digital media, video, and the internet. What's "normal" and what's "sexy" are fluid concepts that come and go like waves and the vast, constant ocean underneath it all is an endless wonderland of sensuality, fantasy, and desire.
Japanese hentai erotica is most famously known for featuring tentacles along with other fantastic imagery. However, tentacles in erotica date back much further than that tumblr blog you follow that you hope nobody knows about. Did you know that tentacle porn dates back to the early 1800's? One of the earliest occurrences of tentacles in visual erotica was the Japanese woodblock print titled The Dream of the Fisherman's Wife by Katsushika Hokusai in 1814. (Featured below)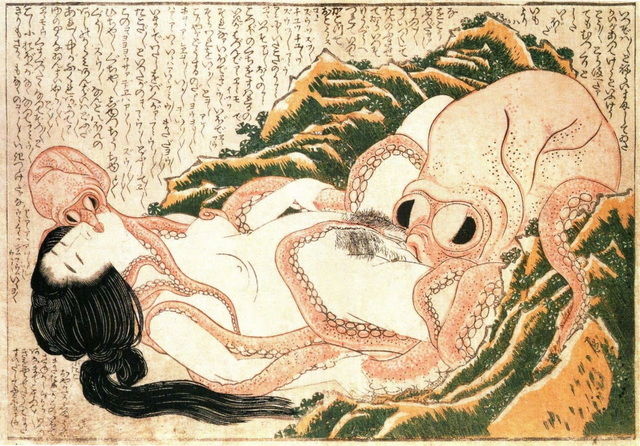 The first time I ever saw this painting, I fell instantly in love. Modern day viewers sometimes criticize this picture as depicting something violent or nonconsensual, but folks in Hokusai's time would've recognized the character of the fisherman's wife from other folktales and would've viewed the act as not only consensual but highly pleasurable for her.
The image depicts a woman bound up in a shibari-esque embrace with two octopi. Her eyes are closed, head dropped back, and they're pleasing her entire body. Much of this older Japanese woodblock erotica, also known as shunga, depicts human lovers in various forms of lusty embrace. Something about the way this image centers the pleasure of the woman spoke to me on a deep level from the moment I first encountered it.
Tentacle erotica is so popular in Japan that it has frequently been parodied by Western audiences. Some of the popularity of this genre is due in part to censorship laws in Japan that ban certain kind of sexual imagery including images of genitalia and in some cases even pubic hair. Tentacle porn often helps content producers and consumers circumvent this censorship. Tentacle porn is also popular because taps into a vast array of interesting themes. Tentacle erotica is all about fantasy. It varies from being silly and playful to wildly violent and potentially disturbing. It's unusual and otherworldly. There's something deeply moving and a bit unsettling about it. It is featured in an astounding range of formats including but not limited to adult cartoons, video games, printed hentai, erotic fiction (I'd like to recommend Master Han's Daughter by Midori ) , and yes, even fine art (as shown above). There's truly something in it for (almost) everyone.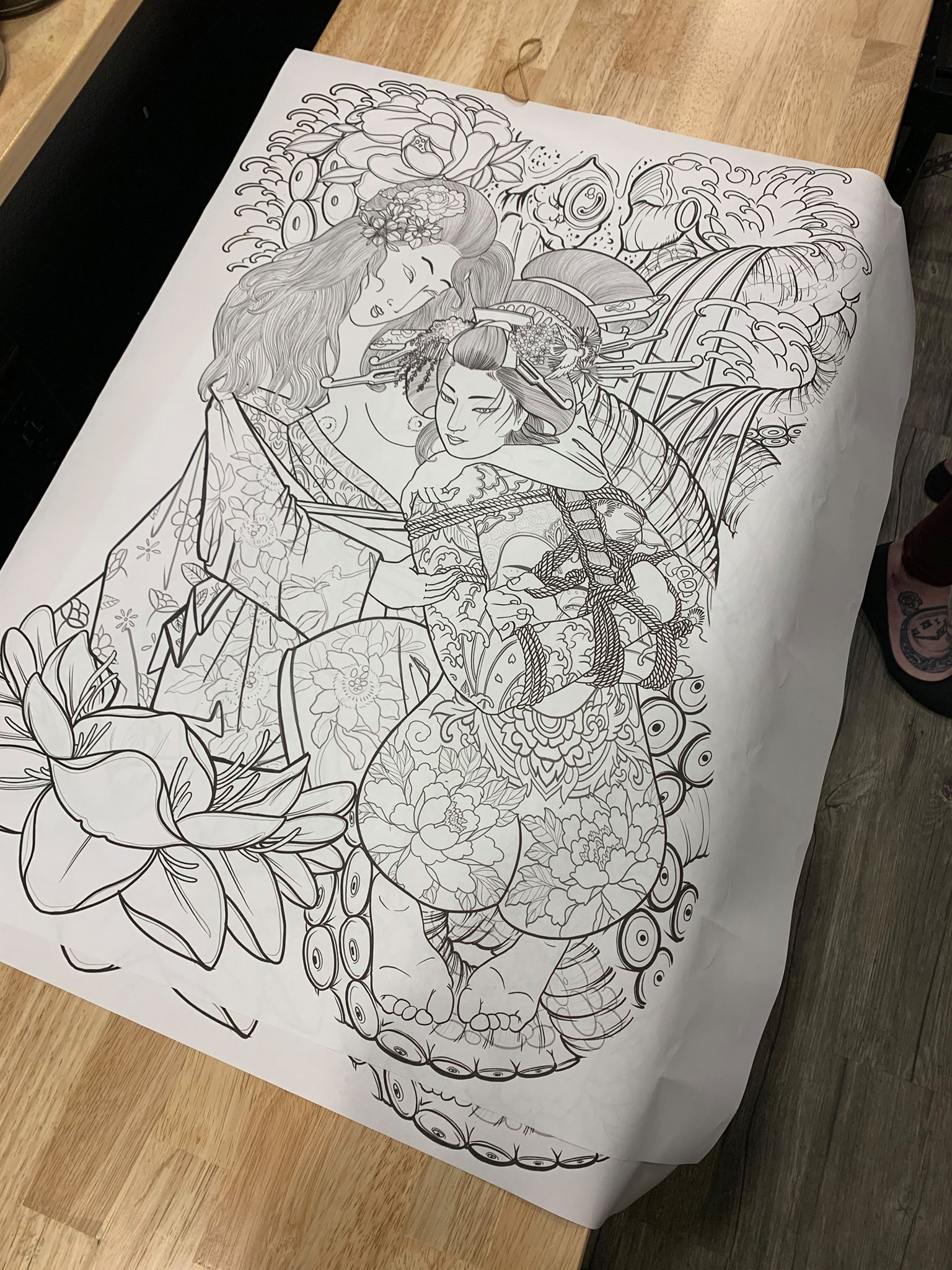 In addition to 2019 being the year of my tentacle toy box (ha), I am also excited to be embarking another kind of journey. I have teamed up with tattoo artist Omar Safi from Revelation Tattoo Company in Florida on a deliciously sex-positive, kinky, queer, beautiful project. Omar will be working on a stunning full back piece featuring a Japanese woodblock style shibari scene that includes – yep, you guessed it – tentacles. He'll be tattooing this breathtaking piece of fine art to yours truly over a series of months starting very soon. If you want to go along on this adventure with us, we will be chronicling all of it through our various social media accounts. We will also be discussing the mission statement and inspiration for the project and other things related to sex positivity, body positivity, sex ed, the glorious world of tattoos, and whatever else strikes our mutual fancy. To follow Omar go to www.revelationtattoocompany.com/omar or find him on Instagram at instagram.com/osafi2000. Also make sure you're signed up for my newsletter by going to the contacts page at ProfessorSex.com (my social media links are also there).
I hope that the glimpse I've shown you into this exciting, whimsical world has piqued your own curiosity. Sex should be enjoyable and playful, and I hope you're able to create some of that magic with what you have here. I encourage you to tap into your sense of fantasy and wonder as you explore – alone or with a lover (or two). Just like tentacle porn, there's something in this crate for (almost) everyone.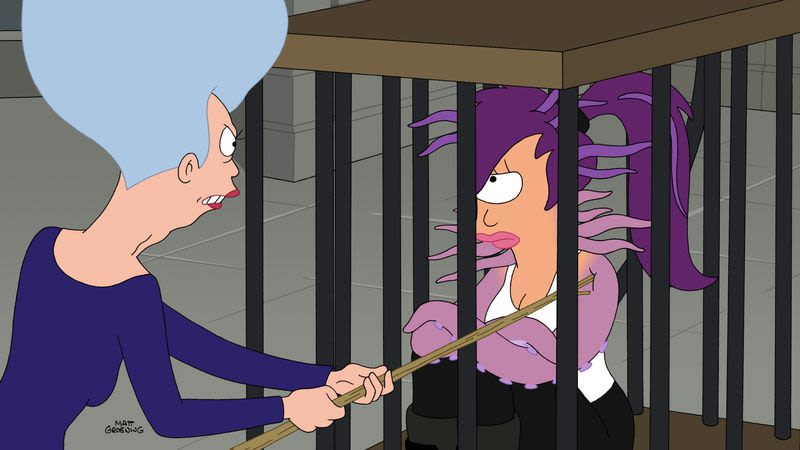 XOXO,
Professor Sex
To find out more about Kink Crate or get your hands on some of the sexy tentacle toys that were included in this crate, head HERE.