Ep 8: K is for Kinky Hormones (Recorded Live at Club Kink Jax)
Rob and Angel discuss neuroscientific research on the physiological impact of BDSM play Dominants and submissives. This episode was recorded in front of a live audience at Club Kink in Jacksonville, Florida. To see the unedited version and get that live-in-the-club experience (and other awesome perks) head over to Patreon.com/ProfessorSex and join our community at the $5/month level or higher.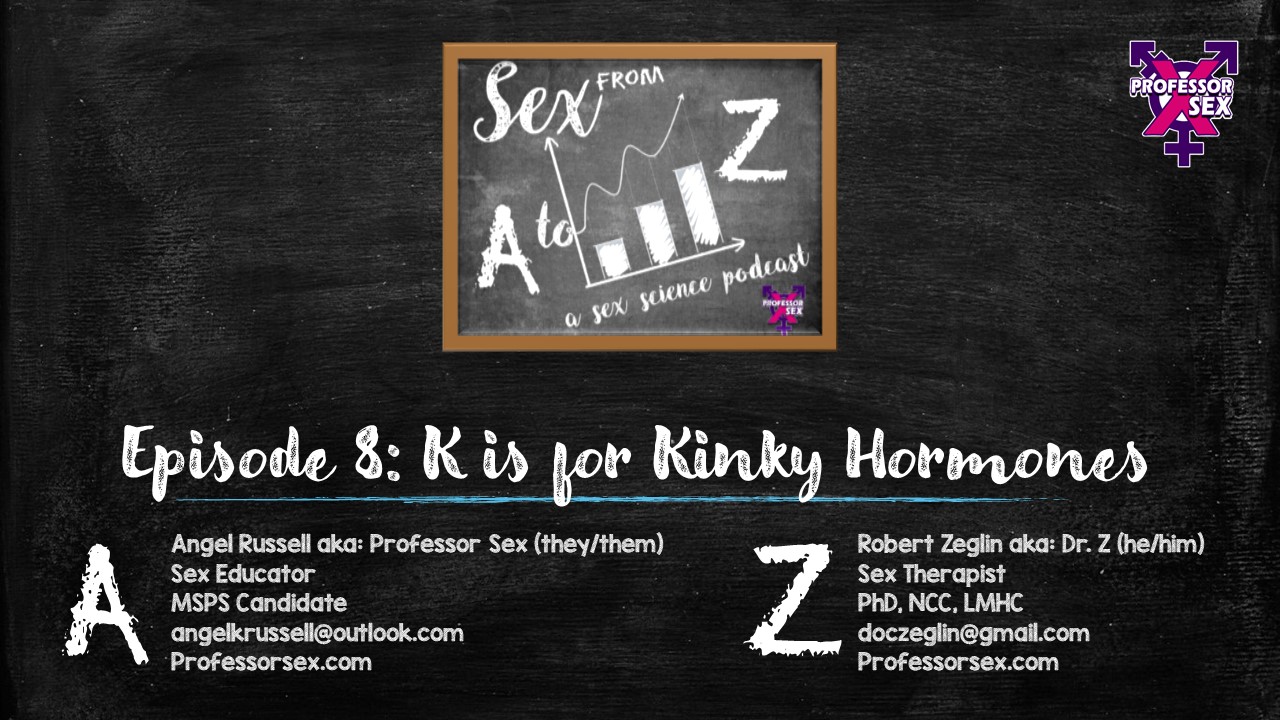 Links to Listen:
Links and Resources from the episode:
The Article:
Wuyts, Elise & Neef, Nele & Coppens, Violette & Fransen, Erik & Schellens, Eline & Van, M & Pol, Der & Prof, M & Morrens, Manuel. (2020). Between Pleasure and Pain: A Pilot Study on the Biological Mechanisms Associated With BDSM Interactions in Dominants and Submissives. Journal of Sexual Medicine. 10.1016/j.jsxm.2020.01.001.
The slides nobody got to see are located as a PDF download here.
This Episode is Sponsored by Loving BDSM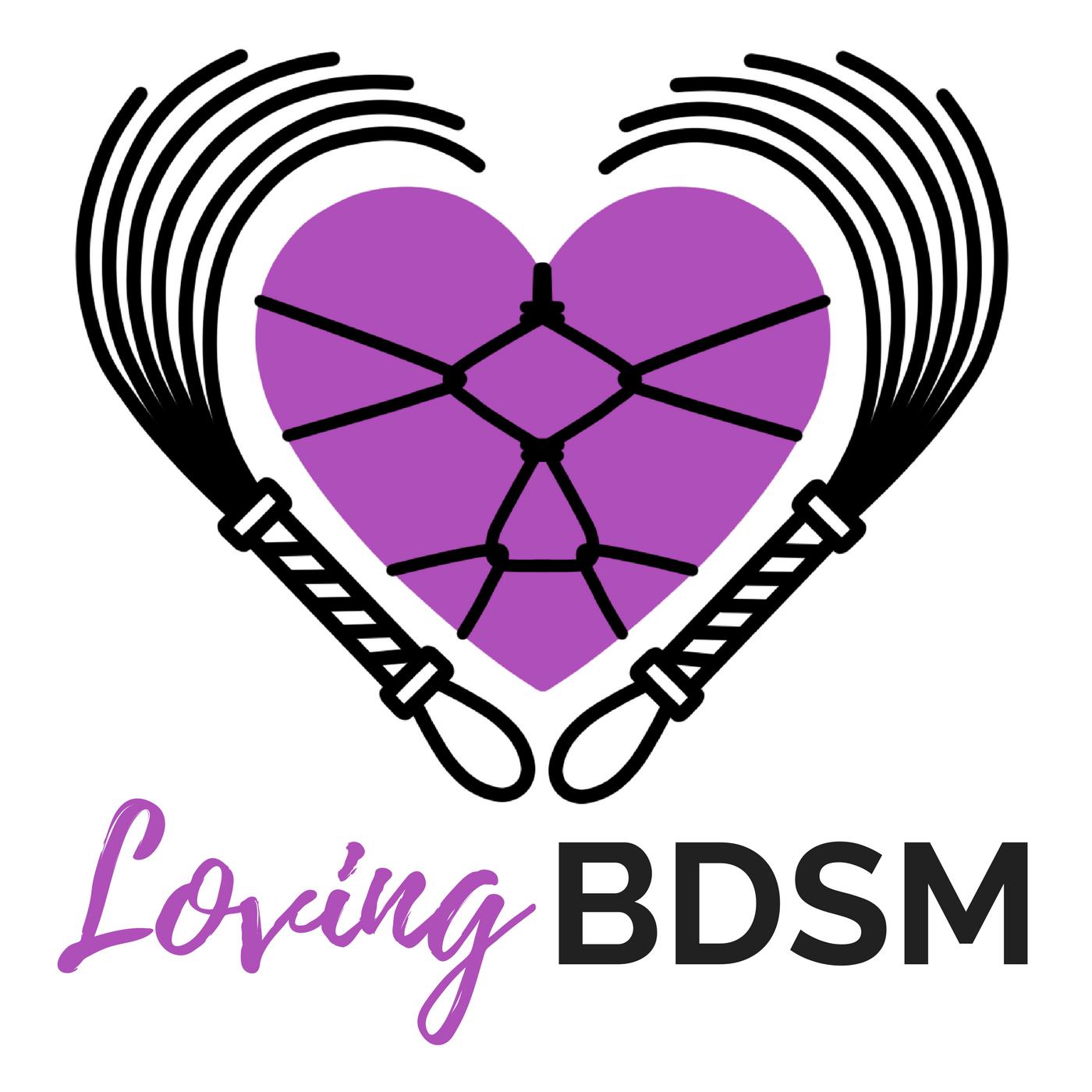 Loving BDSM, co-hosted by 24/7 D/s couple, Kayla Lords and John Brownstone, is a podcast, YouTube channel, and site devoted to helping people find and experience better, happier, and healthier kinky relationships and BDSM experiences. We focus primarily on relationship building — communication, consent, what to do when the vanilla world interferes. Find us on any podcast app, at LovingBDSM.net, or on YouTube at YouTube.com/LovingBDSM. 
Kayla and John, Loving BDSM
Email:  lovingbdsmpodcast@gmail.com
Club Kink Workshops:
Club Kink is Jacksonville's Premier and ONLY Fetish & Swingers club,  where you can experience the lifestyle in a safe, clean and judgment-free environment!
The ABCs of Kinky Sex: A workshop series at Club Kink Presented by Professor Sex.
This is a series of interactive, educational workshops designed to help you take your sex life to the next level. Together, we will explore pleasure, power dynamics, relationships skills, consent and negotiation, all in the context of 6 different exciting, sexy topics. Angel Russell (AKA: Professor Sex) teaches pleasure based, practical sex education using a version of the PLISSIT model. They start by giving you permission to be enthusiastic about who you are, who you love and lust, and what you love to do. Secondly, they give you the information you need to lay a good foundation for exploring the topic at-hand, including issues of safety and other considerations. Finally, you'll be offered specific suggestions on how to apply this to your sex life. Come alone or with your partner(s), but however you come, show up ready to learn and play.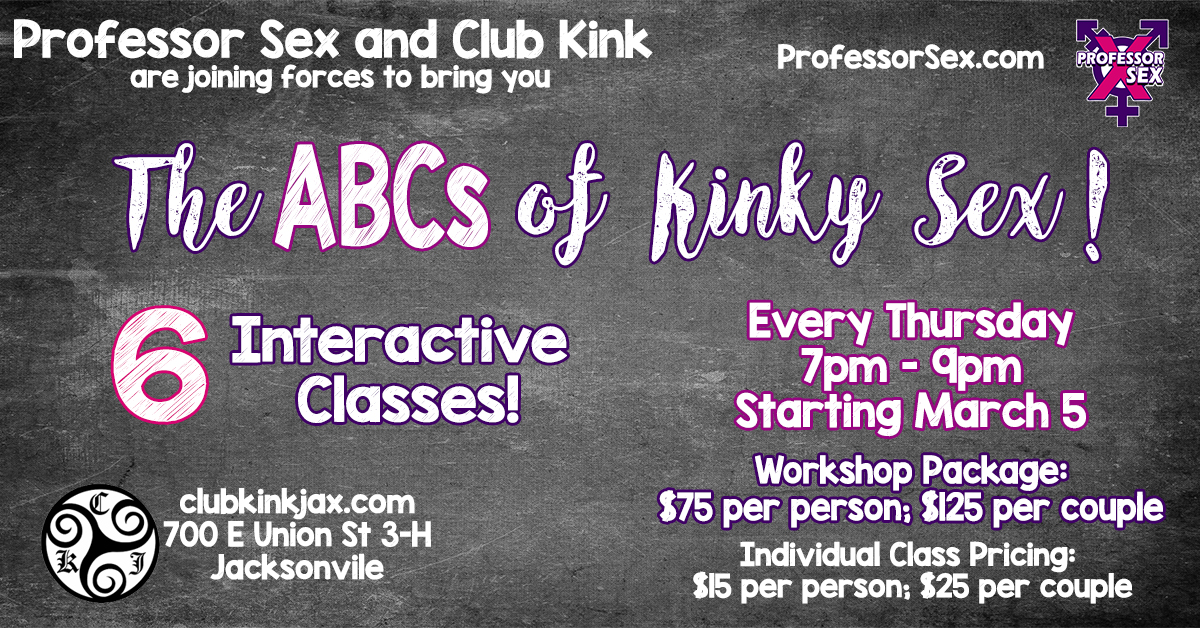 Workshops are every other Thursday (Except March 12) from 7pm to 9pm starting March 5, 2020.
Topic Calendar:
A is for Anal: A workshop about butt stuff. Thursday March 5
C is for Company: A workshop about group sex. Thursday March 19
D is for Delicious: A workshop about oral sex. Thursday March 26
E is for Ecstasy: A workshop about orgasm play. Thursday April 2
F is for Fantasy: A workshop about roleplay. Thursday April 9
B is for Backrub: A workshop about erotic massage. Thursday April 16
Workshop Series per Class: $15 per person or $25 for couples
Workshop Series – 6 Class Package: $75 per person or $125 for couples
Go to ClubKinkJax.com for more information or to sign up.
About "Sex from A to Z":
"Sex from A to Z" is a sex science podcast discussing in plain language the actual studies that inform how sex therapists, sex researchers, sex educators, and medical professionals make decisions about sexual health and wellness. In each episode we take a deep dive into a different piece of peer-reviewed literature, break it down and explore the social, scientific, and personal implications. This is a podcast for anyone interested in understanding the psychological, medical, and other scientific research behind sexual issues that impact all of us.
"Sex from A to Z" is hosted by Angel Russell and Dr. Robert Zeglin, and produced by Steven Russell. Art for the podcast was created by Angel Russell. We will post links to all the articles we discuss and additional resources for exploring each topic. You can watch on YouTube or listen anywhere you find your favorite podcasts. To check out other episodes, updates, show links, and additional content, go to: ProfessorSex.com/podcast.