Booty Basics and Backdoor BDSM: Anal Play for Everyone!*
If you're a Kink Crate subscriber, then when you opened your Crate this month you noticed it, peeking up at you from the pretty packaging, a glass butt plug. Congratulations! You're in for a very good time indeed. (If you're not a Kink Crate subscriber yet, sign up HERE.) Whether you're a prostate pleasing pro or an anal amateur, you can always access new and exciting ways to play. So, let's just dive right in, shall we?
Booty Basics
Before we can get adventurous with our backdoor BDSM, let's start with some booty basics. Even if you've been doing butt-stuff for a long time, stick around for the next few paragraphs, you might learn something.
Anal Anatomy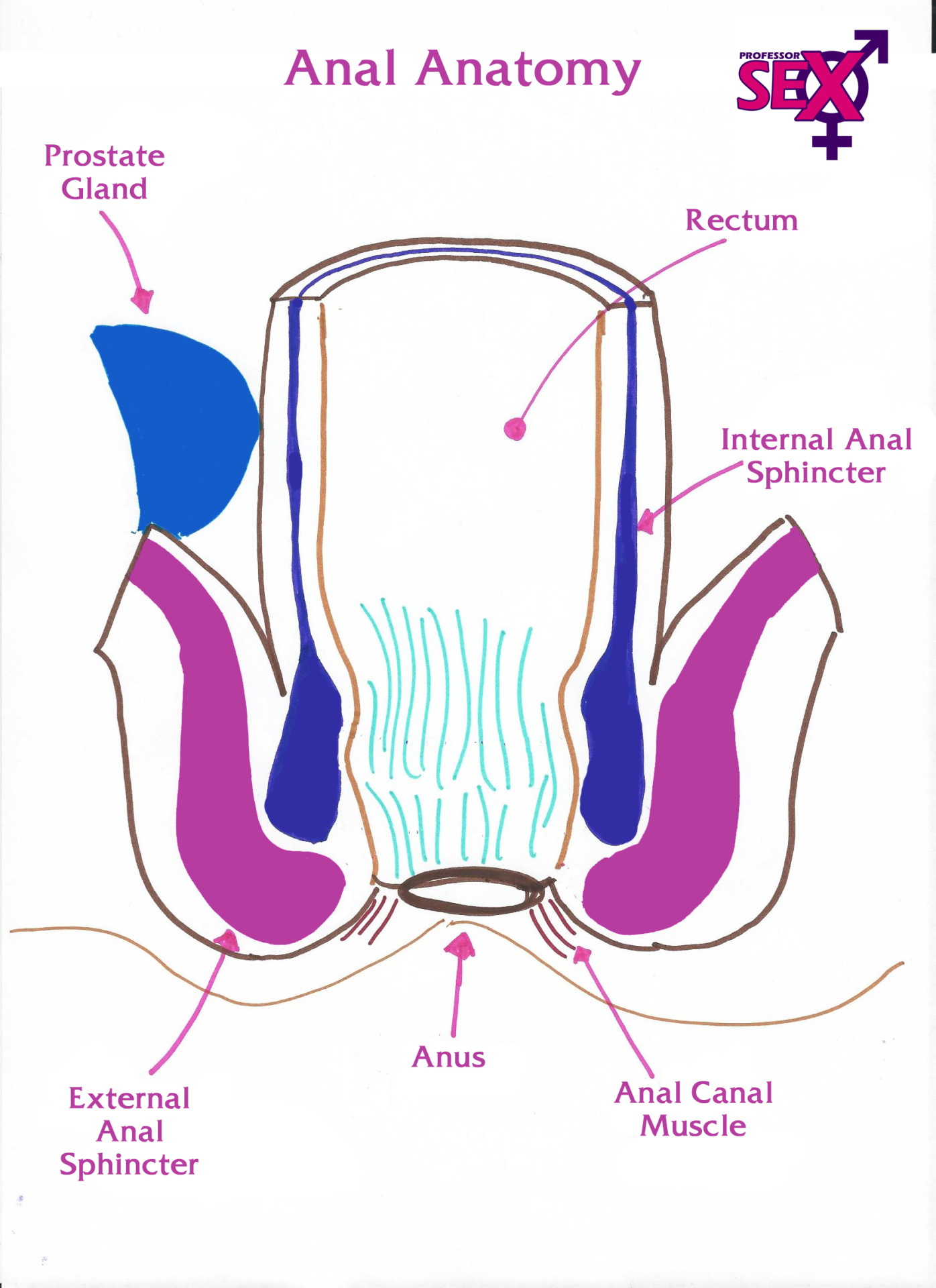 The best way to be safe, no matter what kind of sex you're having, is know what equipment you're working with. There are tons of super-sensitive nerve endings at the opening of the anus and in the lower part of the anal canal, and stimulating them feels really great. There are also two sphincters, the External Anal Sphincter (EAS) and the Internal Anal Sphincter (IAS) – see my highly scientific drawing. Those sphincters sit just inside the anal opening and one is kind of on top of the other. Imagine two calamari rings that are stacked, but not exactly touching. Those rings want to close and tighten. They want to keep stuff out. If you've ever tried anal before, you know this. They squeeze tight; the IAS squeezes tighter than the EAS. If you've ever experienced pain or discomfort from anal sex, it is likely, at least partly, because of that resistance. Get past those rings, though, and the anal canal is full of nerve-endings that deliver great pleasure.
Additionally, just inside the rectum, for male-bodied folks, is the Prostate Gland, which is sometimes affectionately referred to as the "male g-spot". Folks who have them will almost unanimously tell you that stimulation of the prostate gland is incredibly pleasurable and can lead to some mind-blowing orgasms. Female-bodied folks, there's something in this for you, too! The anal canal and rectum sits right next to the CUV – the cliterourethralvaginal complex – formerly known as the "G-Spot". We can talk all about the CUV another time, but for now what you need to know is that anal play can pack a pretty powerful punch no matter what body you're in!
Another roadblock to anal sex that often comes up for people is, frankly, poop. That's your butt and, in almost every other circumstances you're used to feeling things *leave* your butt, not enter them. Stimulating that area can make you nervous before you get used to it. Some people are really worried that they will make an unexpected mess. Don't do anal when you're not feeling well, but aside from that, if you eat plenty of fiber and have regular bowel movements, you shouldn't expect any surprises, and there's really no need to use an enema or anything else. Take a shower, wash your body thoroughly, and you should be good. What you should expect is to get a little color on your finger/toy/penis/etc. Yes, there *is* poop back there, it is part of the deal, but it isn't going to be the distracting horror show you fear it to be.
Another part of anal sex that can be challenging is that, unlike the vaginal walls, the anal canal does not self-lubricate. Imagine sliding down a dry waterslide. No fun, eh?
All that brings us to…..*drumroll*
The Golden Rules of Butt Stuff
Rule number one: Communication.
That's right, don't sneak up on each other! Don't "surprise" your partner with butt stuff. Not only will this NOT go well, you'll also be violating their consent. If you're interested in exploring anal play, tell your partner this. Be honest with them and see how they feel about it. Do you want to be the giver or the receiver? Do either of you have prior experience with it? If so, how did that go? Do either of you have apprehensions about it? Maybe one of you ate something for dinner that didn't agree with you, and you'd rather wait to try play time until later. You won't know if you don't ask. Negotiate these boundaries and be gentle with each other. Speaking of gentle….
Rule number two: Relaxation.
This is not a race. If you've ever seen anal sex in porn, it looks like they just jump right into it. This is not the whole story. What you're not seeing is all the backstage work they've don't to prepare their backdoor. Remember when we talked about those sphincters and how they want to tighten? When I say relax, I don't just mean calm your nerves – although this helps. I also mean start slowly so you can help those sphincter muscles relax to allow penetration. Start with massaging the area outside the anal canal. The external muscles still have a ton of awesome nerve endings in them and this will feel delicious even if you never ever enter the canal. Then proceed with something small. A pinky finger. An index finger. A thumb. Work your way up to a small plug. Using a butt plug can help keep that area feeling stimulated while simultaneously training those muscles to relax for play. It may be several times of play before either of you feels emotionally or physically ready to go for larger penetration like a dildo or penis. Anal sex should NOT be painful. Listen to your body. If you feel pain, slow down.
Rule number three: Lubrication.
A healthy anus does not self-lubricate. That means you need to bring in outside lubrication. Saliva is not going to cut it (honestly, don't use saliva for vaginal penetration, either, it messes with the pH balance). The best lubrication for anal play is silicone lube because silicone molecules are too thick to be immediately absorbed by your skin (unlike water-based lubes, which your body will just drink right up). Lubrication is not only more pleasurable, it helps reduce risk. When you don't use proper lubrication, you risk tearing and bleeding which can spread bacteria and infections, as well as STIs. Anal sex should NOT be painful. Listen to your body. If you feel pain, slow down, and grab more lube! If you're using a silicone toy for penetration, you can buy toy-safe silicone simulations, or better yet, throw a condom over the toy. Silicone lube is condom safe. Use a lubricant that's designed for sex and contains a high-quality, medical-grade silicone – this is safer for your body and reduces irritation.
And here are some additional tips…
Add vibration. Vibrating anal beads and butt plugs can help increase pleasure which also increases that relaxed feeling and allows for more penetration. Once you get past those sphincters, stuff feels really amazing, but don't rush it or you'll ruin it.
Add stimulation. Stimulate the clitoris, the penis, or the perineum (the taint) while simultaneously stimulating the anus. It helps. I promise.
Add protection. Even if you're fluid-bonded with someone (we can talk about fluid-bonding and risk aware sex later, but basically it means you're not using condoms with them for other kinds of intercourse), adding condoms in for anal sex can be a huge bonus. It takes some of the fear of making a mess out of the equation, for one. If you plan on going from vaginal sex to anal sex, using condoms to transition can help. Put a condom on before you penetrate the anus and then remove it before going back to vaginal sex or oral sex. DO NOT GO FROM ASS TO VAGINA without cleaning your hand/toy/penis/etc. first! You'll introduce host of strange bacteria and totally disrupt the pH balance of the vagina. This can lead to infections like yeast infections and bacterial vaginosis. No fun, I assure you. Using gloves for backdoor play when hands are involved can have similar benefits to what we just talked about with condoms.
Safety First! If your toy doesn't have a flared base, don't use it for anal. Those sphincter muscles are very greedy and they will try to keep whatever you put up there – which could make for an awkward trip to the ER.
Backdoor BDSM
Okay, so we've got some of the basics out of the way. Now let's explore some fun ways to add butt play into your power exchange dynamic. Here are just a few ideas:
Make your submissive wear a butt plug to do household chores. Having a plug in while you vacuum, wash the dishes, or scrub the toilet is a great, sexy way to turn chores into foreplay; it can also help remind them who's boss.
Using a butt plug during vaginal penetration can increase fullness and make them very aware of that most-sen
sitive of areas. Make good use of that ball gag so that everyone of their holes is being used. It will be deliciously humiliating.
Spanking and other impact play.
Put your submissive over your knee and put the butt plug in their tight little anus, and leave it in while you spank them! They'll feel it shift and move and be extra aroused and maybe even a touch embarrassed. Added bonus: Give them a hand-mirror and make them hold it still in front their face, that way you can BOTH watch their reaction while you push it in place and then spank their butt rosy red.
Have your submissive wear their plug out to dinner, underneath whatever darling outfit you've chose for them to wear. If they identify as male, you could even spice it up by adding an adorable lacy panty.
Have them wear their butt plug while they do naked crunches or other exercises for you. This makes for some excellent FUNishment.
Those are a few ways to add a butt plug into BDSM fun. Can you think of more? Share your ideas below in the comments! You have your very own plug now, so start getting creative!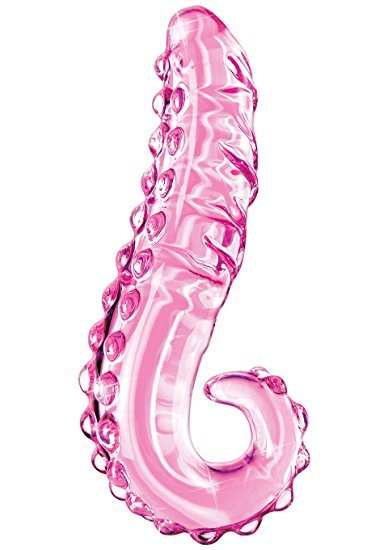 *this article originally appeared in the Kink Crate monthly newsletter for April 2017. To get this content early (and so much more) subscribe to Kink Crate at KinkCrate.com/ProfessorSex <—– Use that link to subscribe and get a FREE gorgeous glass tentacle toy! A special gift EXCLUSIVELY for friends of Professor Sex.